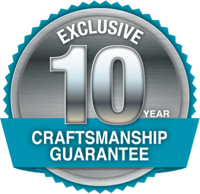 Mastercraft Kitchens Guarantee
Mastercraft Kitchens Licensees guarantee their products, manufactured in-house, to be free from defects arising from faulty craftsmanship, for each and every owner of the property, for ten years from the date of installation.
All other products supplied through Mastercraft Kitchens carry the guarantees issued by individual product partners. Mastercraft shall not be liable under this guarantee for periods that extend beyond our individual product partner's guarantee.
How to make a claim
If your issue has resulted as a defect arising from faulty craftsmanship, please complete the form on this page, and the Mastercraft Kitchens Licensee who manufactured your kitchen will be in touch within 48 hours (Mon-Fri).